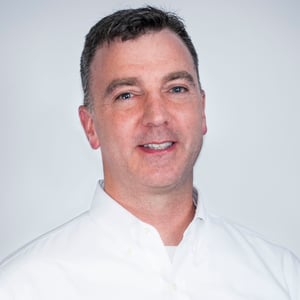 Get to know Kevin Franey, Senior Vice President, Business Development Healthcare Practice Group.
1. What five words best describe you at work?
Responsible, focused, fun, collaborative, and relentless
2. What do you do to relax?
My wife and I have a big active family. Our four children range in age from 17 to 9 years old, and there is always some kind of extracurricular activity happening any day of the week. In my free time I enjoy and spend a lot of time at sporting events (field hockey, volleyball, cross country, basketball), plays, and performances. When I'm not at work, I'm always driving somewhere for them so literally I'm an unpaid taxi driver. Perhaps I should get my side hustle on and become an Uber driver. I do love to run and to fish in my downtime. I am currently training for the Philadelphia Half Marathon (Saturday November 17). I infinitely enjoy all of it. It's crazy, but it's a fun crazy.
3. What's your favorite book or movie?
My favorite movie is the Shawshank Redemption. It includes one of my favorite quotes, "Hope is a good thing, perhaps the best of things."
I have lots of favorite books, but if I were put on the spot, I'd name To Kill A Mockingbird. I am a big fan of Atticus Finch. I like how he holds on to his values despite the accepted social norms of the time, and how he used his brain and heart to break down barriers.
4. What are people surprised to learn about you?
People are always surprised to learn that I have four daughters. I am totally outnumbered at home and would not change a thing. I think people are also surprised to realize that I am a past Toastmasters president – Reading Toastmasters Club 714. I'm a huge advocate for public speaking and improving your communication skills.
5. What advice would you give a new TKXS employee?
The people at TKXS are one of its best attributes. I've been around long enough to appreciate a fantastic work culture. Having great culture isn't an accident and unfortunately, it isn't common. TKXS is genuinely a great group of people– people who are fun, hardworking and who have great chemistry. You should not take that for granted.