Winn Maddrey, TKXS SVP of marketing and corporate communications, has been with our Charlotte office since 2015. Although he's worked in the communications industry for more than two decades – from strategy to implementation, encompassing marketing, public affairs and public relations – he began his career as a legislative aide and was later granted Top Secret Clearance as a Presidential appointee.

1.    What is your role at TKXS?
I work with our marketing and corporate communications team to manage the TKXS brand and content. That can involve anything from handling our website, blog and social media to media relationships and events. We also create assets and content to support TKXS' sales efforts, boosting the TKXS brand through outbound email, marketing automation and account and contact-based marketing. Other content and assets for business development include presentations and RFPs. In addition, we support internal communications to share TKXS content and culture. And now, we do many of the same things to support and build the TELUS Agriculture brand.
2.    What drew you to this business?
I previously worked directly with clients in an agency environment. At the same time, Steve Amedio was encouraging me to look at TKXS. When I arrived here – which is another interesting story because the agency I'd been working for uses the same parking lot as TKXS, so I didn't have to "move" very far – I could see how enjoyable and educational it is here. The people are great – and who knew there could be so much agricultural data to work with?


3.    What advice do you wish you'd been given early in your career?
I wish I'd been advised to be more skeptical – to ask more questions and not take things at face value when I was younger. A bit of healthy skepticism – and approaching things with a clear head – is a good thing. I know now that the people who "dug the hole" aren't the best people to solve a problem.


4.    What do you want people to know about TKXS?
This is a great place to work. Even with the pandemic, even with remote working, even with all these challenges, TKXS is a great place to work with a great group of people. It's sometimes hard to believe that just two and half years ago, we were a group of 85 people. Now, we're nearly 300 and part of a company that is 1,200+ strong. It's a really exciting time.


5.  If we had a billboard outside our offices, what would it say?
Look. They're fixing the ATM again.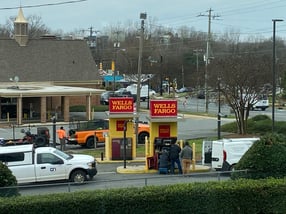 Seriously, the ATM at the edge of our parking lot is under repair at least three times a week!
But if you wanted something more related to TKXS, I'd say:
Stretch those muscles.
There are so many solutions to be found, so many ways to be creative and be more efficient and effective and inclusive, when you just take a moment to open your mind. Often there is a more creative solution if you just push yourself a little more.