In these very uncertain times, the majority of U.S. ag retailers know one thing for certain: They don't have to wait 'til next season for market pricing, growth and share reports. Instead, they can track crop protection product market trends in-season — with

EZTrak®.
TKXS' one-of-a-kind reporting tool allows ag retailers and manufacturers to easily and accurately see where they stand in-season, compared to previous seasons, compared to the competition, and compared to current seasonal trends.
How EZTrak works.
The idea is simple. At least once a month in-season, participating U.S. ag retailers share point-of-sale information from millions of transactions. TKXS collects the data, normalizes it, anonymizes it, and makes it available for EZTrak reporting. Participating retailers can access the database at no cost. Subscribing crop protection manufacturers pay an annual fee.
Previously, EZTrak was only available in the United States, with a significant majority of retailers participating. Now, however, TKXS is launching a similar platform, TKXS Market Data, in Western Canada.
As with EZTrak, Canadian retailer privacy is assured. TKXS' strict business rules have been proven to protect retailer confidentiality and ensure anonymity. Likewise, Canadian retailers benefit from the same ease of participation as U.S. retailers. TKXS accepts data in virtually any format from virtually any accounting system.
The benefits to retailers and manufacturers are clear: No more waiting for end-of-season reporting. With current and accurate in-season data, manufacturers will always know where their products and portfolios stand in the market and against the competition, positioning them to make in-season adjustments in response to changing market conditions.
With accurate in-season reporting, crop protection manufacturers always know where they stand in the market and against the competition.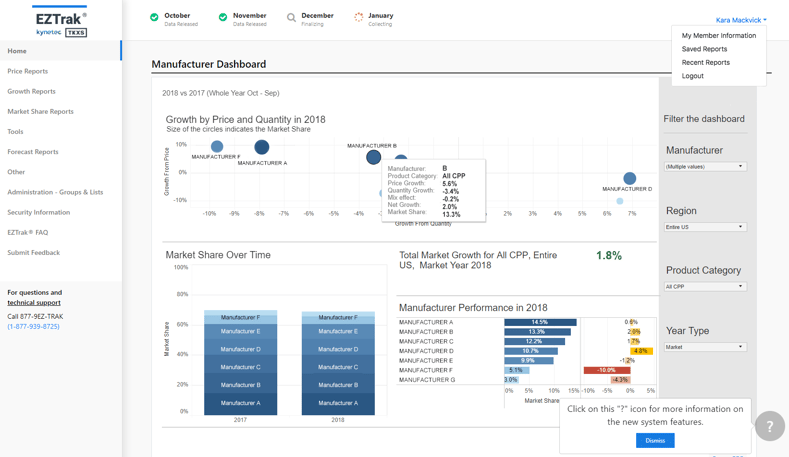 Proven performance and privacy.
TKXS understands that agribusiness folks are passionate about agriculture, not technology. But we also know that the future of agriculture — and solving the looming challenge of feeding a larger and larger population while farming diminishing acreage — hinges on technology and data. No other company comes close to transforming so much raw ag data into highly marketable information. We've been applying our technology for about 15 years now, maintaining retailer privacy and confidence every step of the way. We look forward to sharing this same level of insights, capability and certainty in the Canadian market.
No other North American company comes close to transforming so much raw ag data into highly marketable information.
Let's grow smarter, together.
Both EZTrak and TKXS Market Data are intuitive and easy to use. The number of types of reports users can generate is nearly unlimited, providing insights into pricing, volume, product mix, market fluctuations, preparing them to better negotiate and respond to changing conditions. If you'd like to know more, reach out to TKXS Senior Vice President of Business Development, Harry Albert, at 919.395.1470 or harry.albert@tkxs.com.